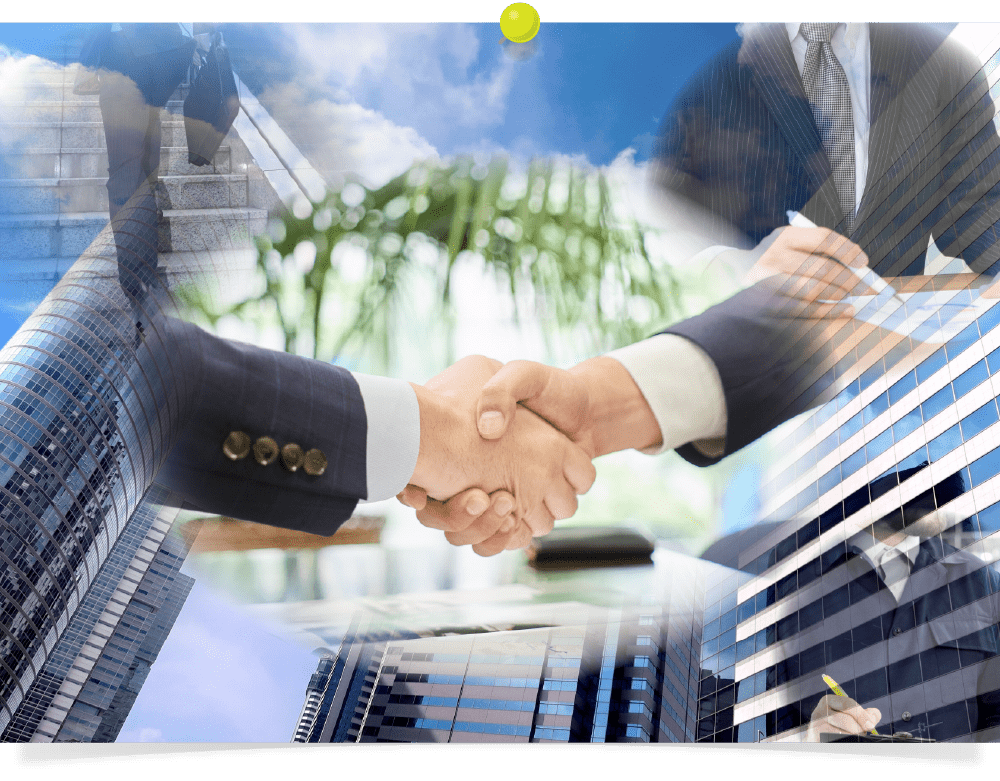 After graduating from Aichi University, I began to work at Inoue Rubber Industries Co., Ltd. (now Inoac Corporation). Looking back, I am so thankful that I was blessed with the opportunity to receive direct guidance from the founding administrator and their family that welcomed me. I was able to experience many kinds of roles including vice chairman of the labor union, sales development, and new business development.
After I had worked at the company for about 12 years, I decided to start my own independent business and they gave me plenty of support including 20% investment capital as well as providing employees and equipment. Two years later, with their help, I established Aiwa Gum Co., Ltd. I had planned to develop the business using the knowledge gained over 14 years but the resin treatment company that was the parent company closed that department, so we moved from rubber business to resin treatment and sales, changing the name as well to Aiwa Co., Ltd. Our resin treatment business started with only one piece of equipment but grew to 12 lines that operate around the clock.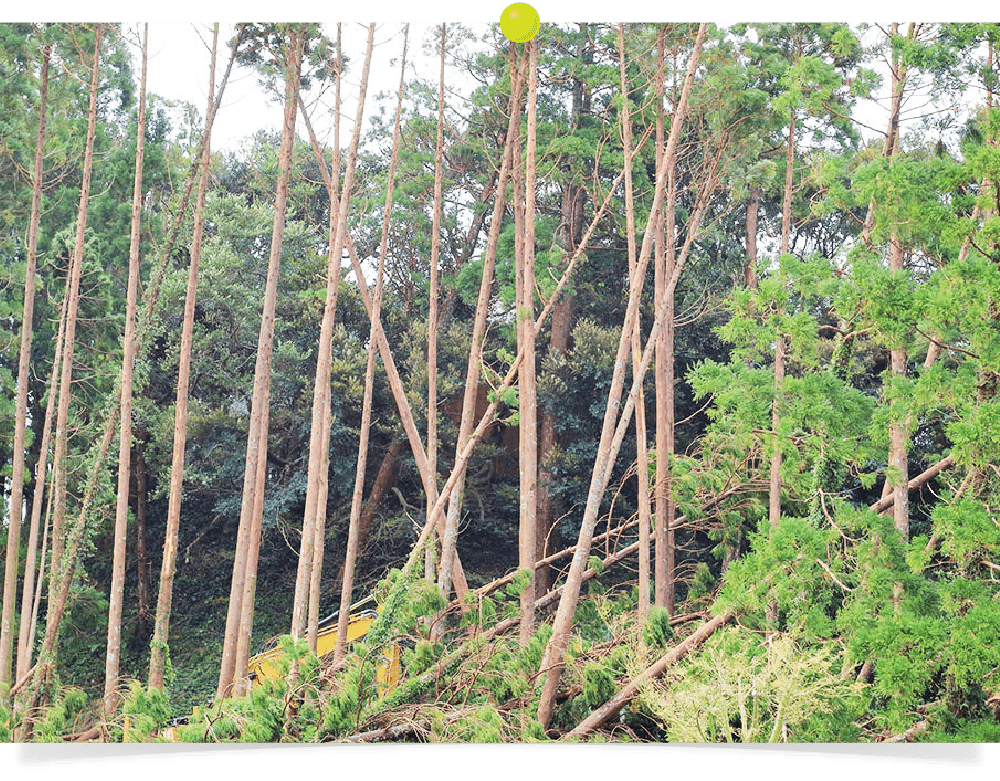 One day, when we were on our employee trip, I saw a large cedar tree that had collapsed in a typhoon. At the moment it was just a tree that had fell to me, but a few days later I read about it in the newspaper, that there was no way to use this tree and they were just trying to dispose of it. I could not help myself. I went right away to where they had this article in Oita and Kumamoto prefectures to find out about the trees knocked down by the wind while researching ways to use these materials.
I visited the Aichi Center for Industry and Science Technology in Kariya, Gifu University and Kyoto University's Wood Materials Research Laboratory and learned about compression technology from their authoritative professors. Searching for a method for using these trees I discovered compression technology. "With this technology, we can make use of trees knocked down by wind!" In that moment, I felt it was necessary for me to commercialize the compression of cedar.
At that exact moment, in Japan, effective use of cedar had become a major issue and we received investment for the cedar compression technology lab from the Bio-oriented Technology Research Advancement Institution of the National Agricultural Research Organization and 6 regional governments to establish the only wood research and development company in Japan with capital of 121.9 billion yen.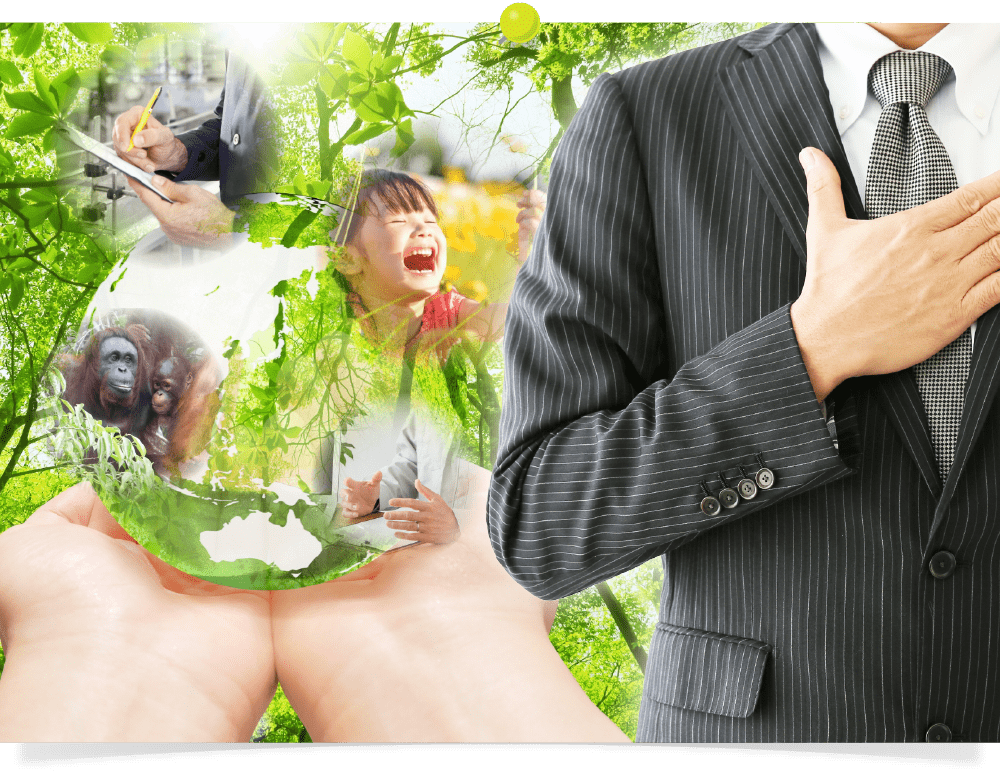 For 6 years, I and 12 to 15 other excellent research staff dedicated ourselves to cedar drying technologies and compression research. As a result, in January 2001 we established My Wood Two Co., Ltd. for the compressed material manufacturing, treatment and sales of cedar. We installed floors for around 500 municipal offices and elementary schools.
As the cedar compression project gradually grew, a professor from Nagoya University approached me to consider applications to oil palms. The fruit of oil palms is used as a cooking oil, but the trunk is weak and there was the issue of how to use it. When I heard this, I immediately began oil palm compression technology research. As a result, we discovered that when oil palm is compressed, the composition undergoes a chemical reaction causing self-adhesion which we commonly see in adhesives. I felt this was extremely valuable and when I discussed it with Mr. Hibino whom I had met through meetings held by the Inuyama Chamber of Commerce, very quickly the conversation progressed to how to turn this into a business. Together with Mr. Hibino, we established Palmholz Co., Ltd.
For 57 years after being hired at Inoue Rubber Industries Co., Ltd., I have been advancing this business developing new but similar products. This oil palm business is truly a culmination of all the businesses I have been involved in up to now.
I hope to contribute to urban development, in Japan and around the world, through people and environmentally friendly oil palm products.
Masao Fukuyama, Director